Early potatoes – the early crop with a great flavour
It's always potato season – if you know where to look!
At the beginning of January, we start our import of early potatoes from Cyprus, an island blessed with a favourable climate and almost no frost during the winter months. Our contract growers there produce flaky-skinned potatoes – which are also an ideal accompaniment to asparagus, from Easter onwards. Further growing areas for this type of crop are to be found in southern Italy.
From March into April, we begin with the import of firm-skinned early potatoes from Israel, which are easily packable for further transport. With the first days of early summer in mid-May, our customers can start enjoying delicious early potatoes imported from Spain and Portugal.
The season then enters its final phase with the arrival of the first early potatoes from Germany. Grown in the Palatinate and Lower Rhine regions, these have an excellent flavour and are also easily packable.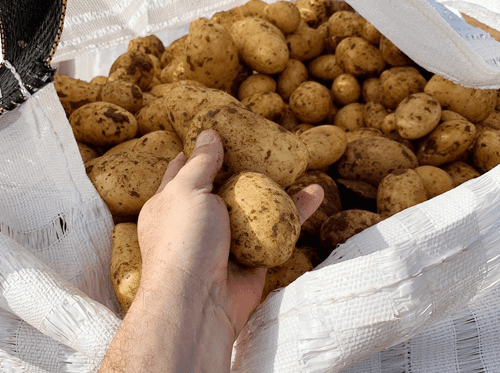 Patatas de España – ¡Buen provecho!
Spain is perhaps best known on the culinary front for its superb ham from acorn-fed Iberian pigs. However, the country also produces very tasty early potatoes in the spring months.
In order to meet the special requirements of the German market, we have potatoes grown in a wide variety of regions in Spain.
These include Malaga, which produces a very early crop of both organic and conventionally grown early potatoes. In the region around Murcia, potatoes grown in red soil are the chief crop.
In Spain, Andalusia is the main region for special types of early potatoes destined for the grocery trade. At the same time, we also have growers producing early potatoes on the island of Majorca, where English varieties are the chief crop.
To allow for the extreme weather that can be encountered in Spain, crop planning has to be flexible and regionally diversified. This is the only way to secure reliable imports of produce from across the country. With numerous contract growers in Spain, we have a strong and broad base there.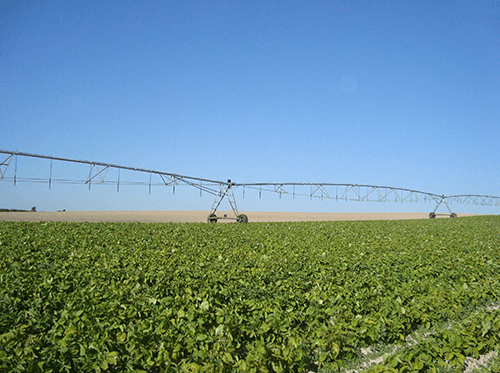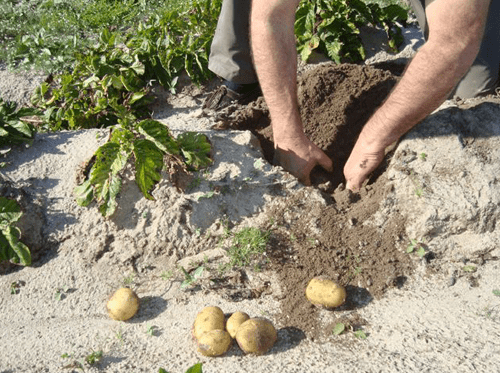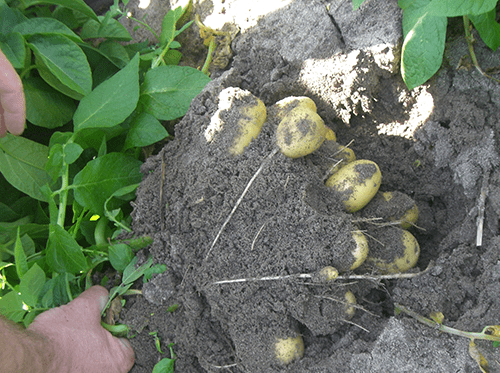 Batatas de Portugal – Bom apetite!
Due to its cooler Atlantic climate, Portugal's firm-skinned early potatoes are not ready for delivery until the month of June. Large-scale contract farmers grow the range of early potatoes we need to supply our customers.
Huge fields of 50 or even 100 hectares – watered with centre-pivot irrigation – are by no means uncommon in Portugal. With their light and medium sandy soils, they offer ideal growing conditions for early potatoes.
Given a relatively small delivery window, seamless logistics from field to bag are essential. This is where our know-how is invaluable.
Be sure to try batatas ao murro – "punched potatoes" – a very popular side dish in Portugal, often served with fish or other vegetables. Precooked potatoes are pressed lightly with a fist, which makes them absorb all the better their delicious seasoning.
Batatas ao murro (punched potatoes)
Ingredients for four (as a side dish): 600 g potatoes, 3 cloves of garlic, 50 ml olive oil, 1 tbsp rosemary, 1 onion, 3 tsp sea salt
Finely mince the garlic and mix with the olive oil and chopped rosemary.
Cook the potatoes in salted water for 15 minutes.
Slice the onions into rings and place them in an ovenproof dish.
Heat the oven to 200 °C.
Place the cooked potatoes onto a flat surface and press them with a fist – but not so hard that they split into two pieces.
Place the punched potatoes in the ovenproof dish and pour the seasoned oil over them.
Bake in the oven for 20 minutes.
תפוחי אדמה מישראל – תהנו מהארוחה!
The first firm-skinned early potatoes from Israel are available from around mid-April. We supply these directly to numerous packing companies. In common with other early potatoes imported from abroad, Israeli-grown potatoes are supplied in big bags.
Grown in light, sandy soil, these potatoes look fantastic after being washed. As the previous year's old potatoes come to an end, it is always a delight to sample the new crop from the Mediterranean. In addition to their exceptional quality, Israeli early potatoes are ideal for washing and packing, which makes them the perfect choice for our premium Baby Potatoes.
Years of strong teamwork have strengthened the bonds of trust between us and our Israeli suppliers. This is hugely important to us – in good years as well as bad!
Israelische Latkes (Israeli potato fitters)
Ingredients for 15 latkes: 160 g potatoes, 160 g apples, 1 onion, 3 eggs, 60 g flour, 120 ml water, 1½ tsp salt, 120 ml oil for frying
Peel the apples, potatoes and onion.
Dice the apple and cook with a cup of water over a low heat for approx. 30 minutes. During cooking, mash the apple with a potato masher. Leave to cool.
Finely grate the potatoes.
Place the grated potato in a tea towel and squeeze out any excess liquid.
Grate the onion and add to the potato along the whisked eggs, flour and salt. Stir well.
Heat the oil in a frying pan, add a dessertspoonful of the potato mix and press down until approx. 1 cm in thickness. Fry for approx. 2 minutes on either side until golden brown.
Place the latkes to dry on a piece of kitchen roll.
Latkes should be served warm with the apple puree or sour cream.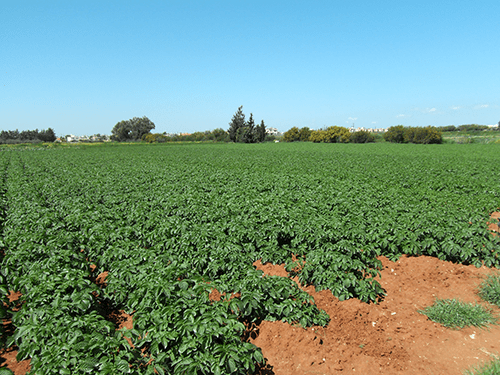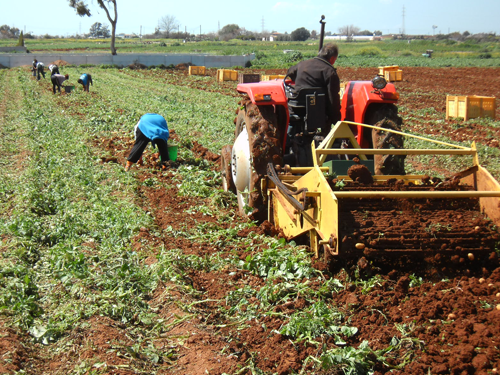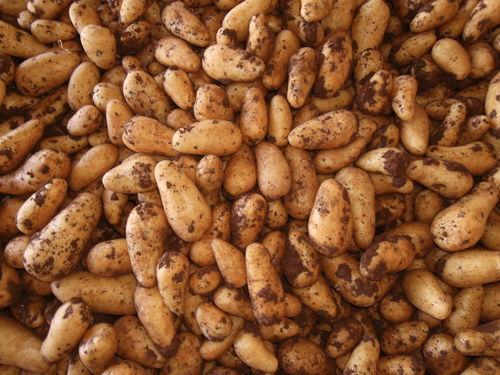 Πατάτες από την Κύπρο – Kαλή όρεξη!
In line with market requirements here in Germany, our growers in Cyprus produce premium waxy varieties such as Annabelle, La Vie, Glorietta, Allians, Venezia and Nicola. In addition, we also import the Marabel (slightly waxy) and Spunta (floury) varieties. With its excellent soil quality and over 300 days of sunshine a year, Cyprus is also known as the "Garden of the Mediterranean".
Some 90 percent of the potatoes destined for export are grown in the red soil of the coastal region to the southwest of the island. Due to the island's special climate and its volcanic soil rich in nutrients, early potatoes grown in Cyprus boast an unmistakable taste.
Growers here operate on a small scale and should not be compared with producers in Germany. On account of the heavy soil and small size of the areas under cultivation, crops are often harvested by hand. We are proud to work with the best-known exporters in Cyprus.
We offer a range of packing options:
Big bags
25 kg sacks
Packs of 2.5 kg or 10 kg
Depending on your needs, we can have the goods packed on site in Cyprus or pack them ourselves in our warehouse back in Bottrop.
The winter crop is harvested from December until March. This is followed by the spring crop, which lasts from March to June. Cyprus early potatoes are a culinary delight and an ideal accompaniment to German-grown asparagus.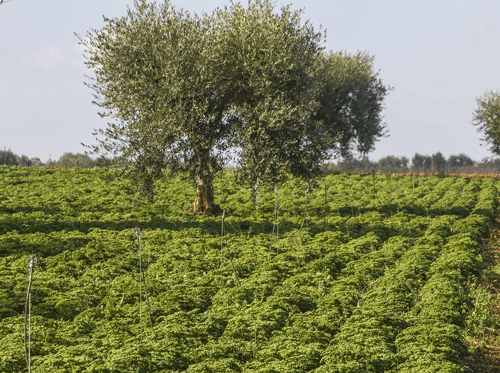 Patate dall'Italia – Bon appétit!
Apulia is the region in southern Italy that forms the heel of the Italian boot. It is known for its pleasant climate, rolling hills with whitewashed houses, and also for its agriculture along the Mediterranean coast.
From April into May, we import early potatoes of the Annabelle and, most especially, Siglinde varieties, grown in the area around Galatina. Although originally German varieties, they grow exceptionally well in Italy, thanks not least to the region's red soil, which is rich in minerals.
Please note that Annabelle and Sieglinde are varieties that should not be stored for too long. They should be kept under cool, well-ventilated conditions and consumed as quickly as possible.
Italian potato crostini
Ingredients for four (as a side dish): 4 potatoes, 2 tbsp olive oil, 2 tsp Italian herbs, ½ tsp salt, 1 carrot, ½ leek, 4 mushrooms, ½ tsp salt, 50 g grated cheese.
Cut the potatoes lengthways into 1 cm slices.
Stir the herbs and salt into the olive oil.
Dip the potato slices in the oil marinade and place on a baking sheet lined with baking paper.
Don't throw the marinade away; it will be needed later!
Roast the potatoes at 200 °C for 15 minutes.
Grate the carrot, cut the leek lengthways and then slice thinly, cut the mushrooms into thin slices.
Place the vegetables into the oil and leave to marinade. Add salt along with the grated cheese and mix well.
Remove the potato slices from the oven and spread with the vegetable mix.
Place in the oven for a further 10 minutes at 170 °C (grill and fan).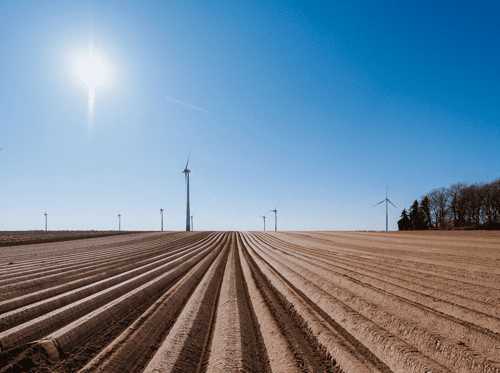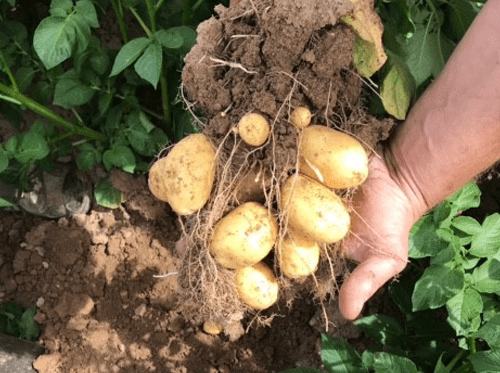 Speisefrühkartoffeln aus Deutschland – Guten Appetit!
Early potatoes grown in Germany hit the market from early June onwards. Freshly harvested and still bearing a flaky skin, the really early ones are from the Palatinate region, followed soon after by southern Rhineland and Burgdorf. In each of these regions, we have highly professional growers who supply us with fresh produce.
As soon as greater quantities of high-quality, firm-skinned potatoes become available from our growers, we begin supplying our packing partners either with potatoes either directly from the field or processed by us. Soon afterwards, these early potatoes go on sale in supermarkets and discounters.
By the way, you can always tell the best cook by how well their fried potatoes turn out. And here's our ultimate fried-potato recipe: crispy on the outside, soft inside. Try it for yourself!
Stadtmann's ultimate fried-potato recipe
Ingredients for four: 10 potatoes, 2 onions, 2 tsp clarified butter, vegetable oil, salt, rosemary
Cut the potatoes into slices or cubes and soak in water for 10 minutes.
Meanwhile, dice the onion and set aside.
Heat the oil in a frying pan over a medium flame, add the potato slices, and sauté for approx. 10 minutes without stirring or shaking.
Carefully turn the slices and, if necessary, reduce the heat.
As soon as the potato slices are golden brown, cover the pan with a lid.
Leave to cook for a further 15–18 minutes, then add the onion and season with salt and pepper. Remove the lid and fry for another couple of minutes until everything is cooked.
Tip: add a little rosemary to finish.
Thomas Gerner
T. + 49 2041 1845-33
M. +49 160 97220391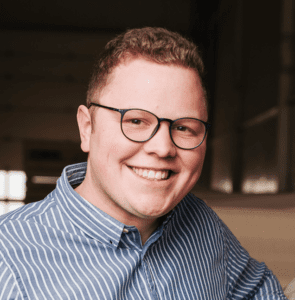 Richard Meyer
T. +49 2041 1845-57
M. +49 151 11870829
Karl Ohligs
T. +49 2041 1845-35
M. +49 178 7575077